Chicago Federation of Labor Releases Anti-Violence-Statement
(Chicago, Ill.) The CFL's Civil Rights and Human Relations Committee released an Anti-Violence Statement before reporters and TV cameras at NALC Branch 11 on Friday, June 24. Union leaders and members who have felt the loss from and been victims of violence themselves spoke out and called on the Labor Movement to work together with community partners to end the violence in Chicago. Members of more than a dozen unions turned out to support the Labor Movement's call for an end to violence.

The CFL proudly represents 300 affiliate unions, who in turn represent 500,000 working people across Chicago and Cook County. Violence has touched union members on their jobs, turning workers into victims. Union members also work as first responders, journalists, healthcare workers and city workers dealing with the immediate aftermath of acts of violence. For over 125 years, the CFL has fought for social and economic justice for all workers and their families, and bringing an end to violence is a crucial part of that mission.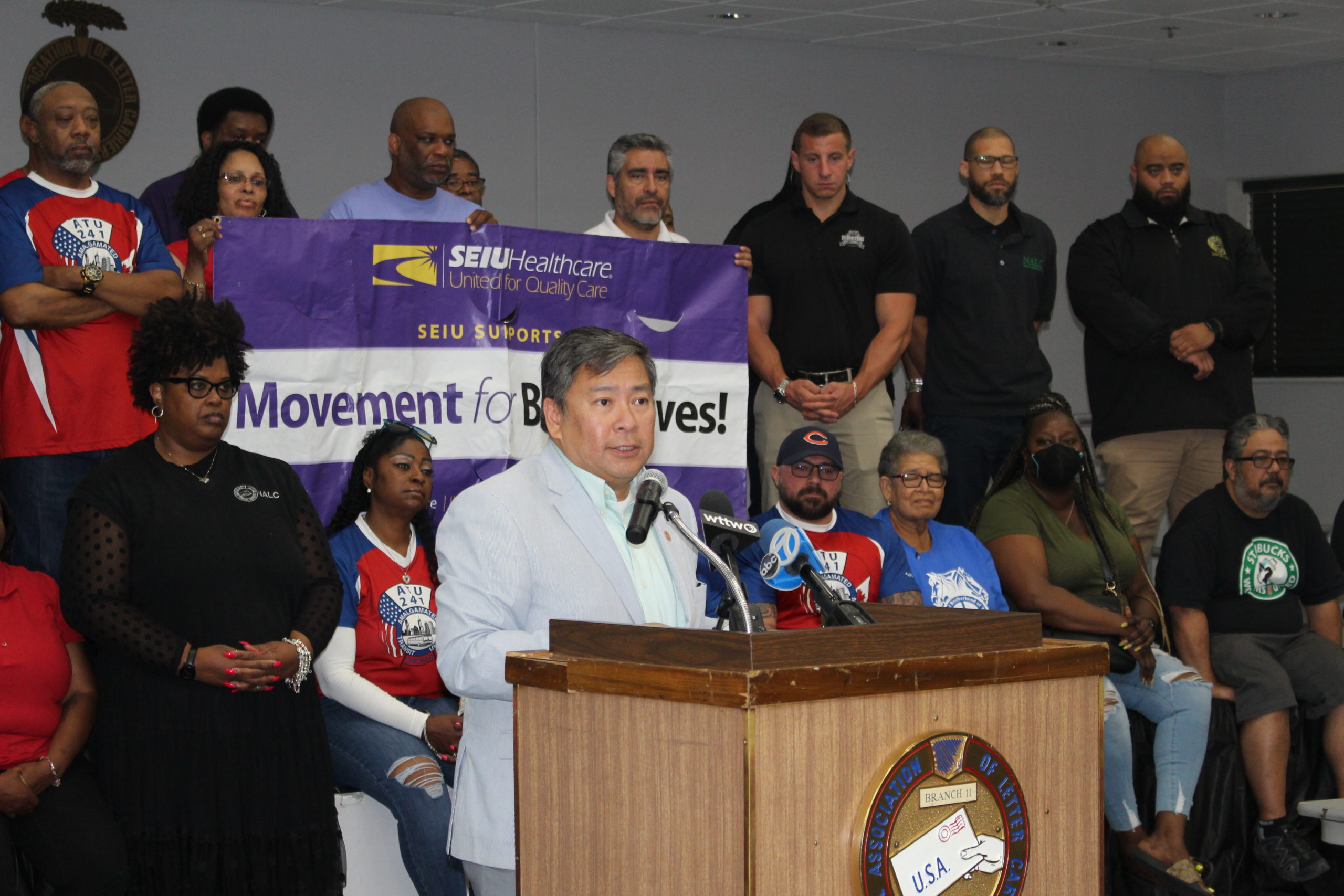 Chicago Federation of Labor Anti-Violence Statement
There's only one organization in Cook County that brings more than half a million people together in solidarity representing the mosaic of races, religions, national origin, immigration status, and educational levels. From city neighborhoods to suburban towns, the Chicago Federation of Labor connects all workers.
For more than 125 years, the Chicago Federation of Labor has fought for social and economic justice for all workers and their families. In the face of corporate greed that treats workers as coggs, the CFL has been the loud and booming voice for workers' dignity, respect, and fairness.
The violence that we see everyday impacts workers. First responders, healthcare workers, and city workers tend to the victims and deal with the immediate aftermath. News reporters and photographers make us all aware of the violence taking place. In violence's wake, social workers, counselors, caregivers, and educators help the survivors and victims' families put the pieces of their shattered lives back together.
Violence has touched union members on their jobs, turning workers into victims through no fault of their own. CTA, PACE and Metra workers assaulted on trains, buses or platforms. Postal workers attacked on their routes or at facilities. Aviation workers punched, kicked or spat at by angry travelers. So many workers find themselves part of the crime statistics.
The diverse voices of the labor movement denounce the violence that has harmed so many working families, and call for peace in our city, our neighborhoods, and communities. We call on those intent on committing violence to put the guns down.
It's more than just a call for peace. If you want peace, work for justice! At the root of violence we find generational poverty, decades of racial inequality, abuses in the justice system, and heavy handed policies that have destroyed families and communities of color. We find neighborhoods destroyed by predatory lenders, disinvestments, blight, unemployment, and despair. We find injustice.
Peace starts with all of us working for justice. The CFL has been doing just that. HIRE360 works to connect people of color from underserved communities to union jobs where they can earn a meaningful living and build a career. Through our partnership with United Way of Metro Chicago, we are helping rebuild communities and struggling families..
We can all work for justice. Whether it's supporting HIRE360 and the United Way, or getting involved in a church or community group building up their neighborhoods, or mentoring young people, or fixing up homes for the less fortunate, we can all work for justice.
We call for peace. We call on all union members to work for justice. As we enter the summer months, we want children to be able to play outside and live life without fear. We want families to enjoy their time together and build lasting happy memories. By working towards justice and bringing peace, families can be safe to reach their full potential.