SEIU Healthcare Illinois members at Loretto Hospital came out on top after an 11-day strike, winning a new contract that included raises in pay and benefits.
Roughly 200 SEIU Healthcare Illinois members working as frontline, service and technical employees walked off the job July 31 after months of bargaining. SEIU Healthcare Illinois members at Loretto Hospital said they faced vacancy rates of up to 35% for various positions, experienced unsafe staffing conditions and Loretto lagged behind other hospitals on wages, despite the state allocating $10 million in funding to address worker recruitment and retention. Because of this, some workers said they sometimes worked 16 hours a day, seven days a week.
The CFL was right there on the frontline with SEIU Healthcare and workers at Loretto Hospital showing support and solidarity along with elected officials, faith leaders, and community organizers. SEIU Healthcare Illinois members held daily pickets and shared their stories on social media to turn up the pressure on Loretto. The entire effort forced Loretto Hospital to give in to workers' demands after less than two weeks on strike.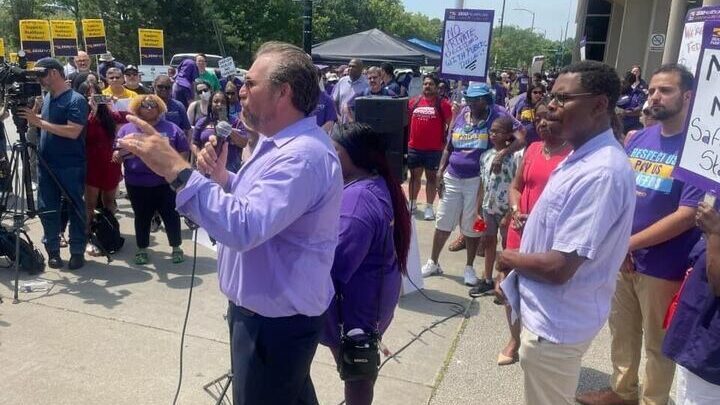 "We are really pleased with this agreement," SEIU Healthcare Illinois president Greg Kelley told WTTW News. "We got raises for all of the job classifications, and almost as important, we got minimum rates that increased for all job classifications."
Among other improvements to the contract, members won starting rate increases, years of service increases, raises for all job classifications, across the board increases, and Juneteenth as paid holiday.
Kelley said the proposed deal would make Loretto "far more competitive than it was before the strike."
"We think it's really just the first step in really making safety net hospitals like Loretto good places to work that really will help make these communities better," Kelley told WTTW.
"We know we could make more at another hospital, but we stay here because we care about our patients and community. This contract isn't just a win for us – this is a win for all of Austin. This fight has always been about securing quality healthcare for Loretto patients and Austin community members – a community we workers belong to ourselves. This contract is a major first step that will help Loretto retain and hire more workers to address the staffing crisis." said Carla Haskins, a Loretto patient care tech and bargaining committee member, in a statement.